You may well be shocked to realise that Phase has been working with children and young people for 20 years! A truly amazing and fantastic feat, yet it doesn't stop there, we want to do even more to help young lives thrive, and that's where you come in!
Over this year we are aiming to raise £20,000 which will enable Phase to expand our team, reach more young people and have a great impact as we head into the next 20 years.
We are asking people to donate, take on a fundraising challenge or think about a small or large event you could do to help reach our funding target. It can be as simple as having some friends round for dinner and asking everyone to make a donation for the meal and letting them know where the money is going, to doing something like walking the Yorkshire Three Peaks and getting family, friends and colleagues to sponsor you.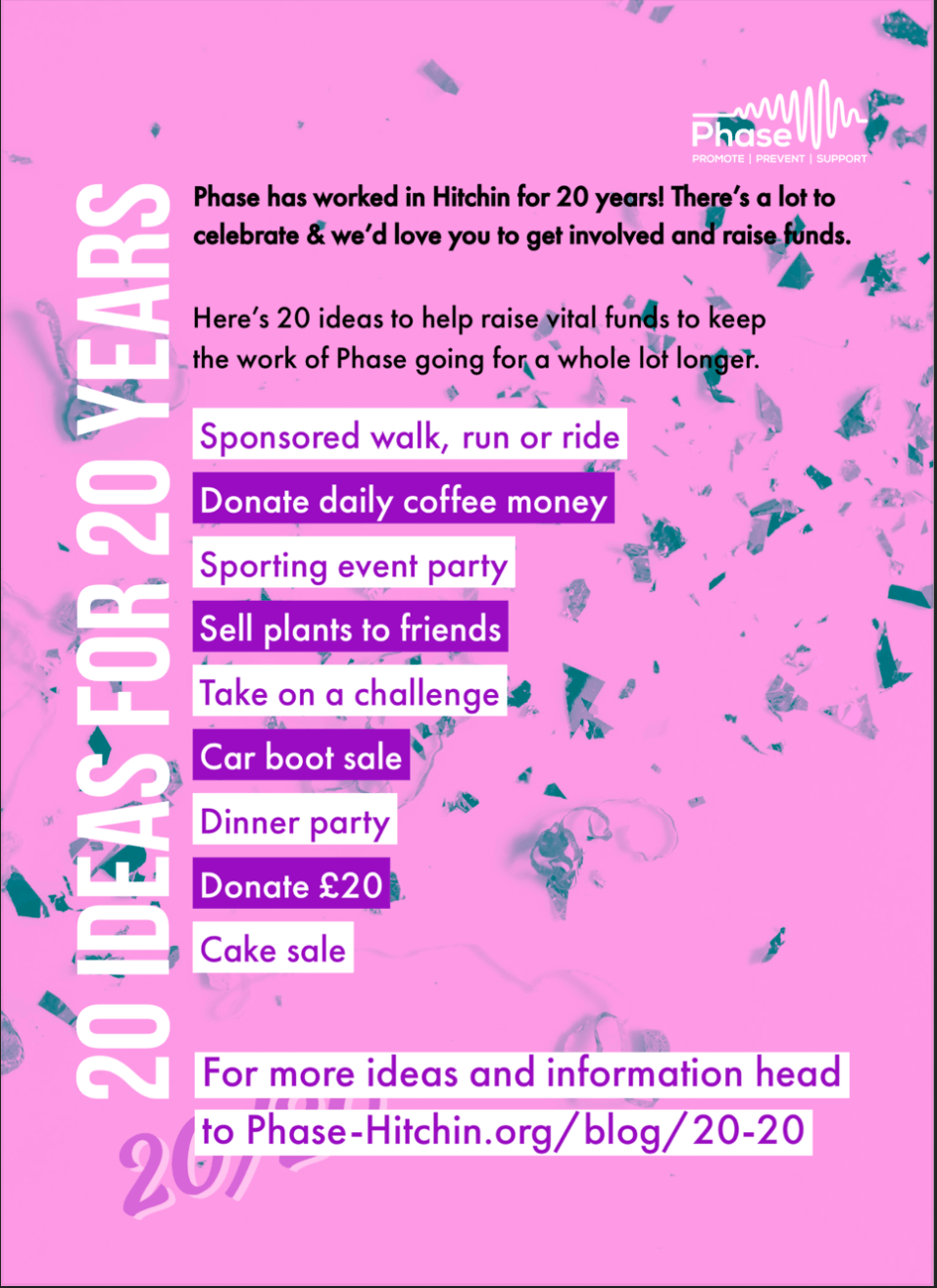 Take on a fundraising event or challenge
If this is what you're planning to do, then we want to help make it as successful as posible. Firstly decide what you want to do. Charity Digital have 50 great ideas to get you thinking.
Once you've decided, why not setup a fundraising page using either Just Giving or Give.net - whatever suits you!
We can provide you with some litriture, posters, a t-shirt or something else to help promote your event. Please feel free to contact us if you need anything else. office@phase-hitchin.org
Donate to Phase
Perhaps commiting to running some sort of event is too much of a stretch, that's fine, we are grateful for all the support you can give, therefore making a donation really helps!
Making a single or one-donation can help us reach our target, again you can do this quickly and simply online using either give.net or Just Giving. Something to consider is, could you commit to supporting Phase longer term by becoming a Phase Partner? As a Phase Partner you help us to plan with certainty about the future, this enables us to support children and young people and provide programmes that change lives year on year.
£20 per month enables Phase to provide a support course and follow up mentoring for a young person
£10 per month provides the Rise programme for 30 young people
£5 per month helps Phase delvier 1:1 mentoring to a young person
Phase partners have always been a vital part of us being able to continue our mission for 20 years.